Mahashivratri 2023 Puja, Muhurat, Yoga and Remedy: The day of Mahashivaratri is considered very important for the worship of Lord Bholenath. If Bholenath is pleased with your devotion on this day, then understand that all your bad works will be done and all your problems will be removed. Please tell that this year the festival of Mahashivaratri is on Saturday, February 18, 2023.
Mahashivratri will be celebrated in a rare coincidence
Astrologer Dr. Anish Vyas explains that every year this festival is celebrated on Krishna Paksha Chaturdashi date in the month of Phalgun. This year Mahashivaratri is on 18 February. On this day Lord Shiva is worshiped with rituals and fasting is observed. This year's Mahashivratri will be even more special, because along with Shani Pradosh, many rare yogas are also being formed on this day.
It is considered a rare coincidence that Shani Pradosh coincides with Mahashivaratri, which is very effective in removing Shani Dosha. By worshiping Lord Shiva in auspicious coincidence and auspicious time, his devotees will get desired results. On this day, a crowd of Shiva devotees gathers in the temples since morning. Devotees get involved in worshiping Bholenath. So on the other hand, many people also perform Rudrabhishek in their homes on this day. Lord Bholenath is worshiped in many ways.
Mahashivratri 2023 – 12 remedies
Mahashivaratri is the festival of the night of union of Shiva and Shakti. According to religious beliefs, spiritual powers are awakened on the night of Shivratri. Jyotishacharya Dr. Anish Vyas tells that, it has been told in the scriptures that by taking astrological measures on this day all your problems can end.

By doing special worship of Lord Shiva with belpatra on Mahashivratri, problems related to money go away.

Mahadev and Parvati should be worshiped during the auspicious time on the day of Mahashivaratri, only then it will get fruitful.

By fasting on this day, unmarried girls get a suitable groom and married women's widowhood also gets destroyed.

By worshiping Shivling on the day of Mahashivratri, the Navagraha doshas of the horoscope are pacified.

Especially related to Moon-born defects such as mental disturbance, lack of happiness and health of mother, relationship with friends, delay in happiness of house-vehicle, heart disease, eye disorder, skin-leprosy, cold-cold, respiratory disease, phlegm-pneumonia. One gets freedom from diseases and respect increases in the society.

By offering Belpatra on Shivling, progress in business and social prestige increases.

By offering cannabis, the disturbance of the family, ghosts, obstacles and worries go away.

By offering mandar flowers on Mahashivaratri, eye and heart disorders stay away.

By offering Dhatura flower and fruit on Shivling, the reaction of medicines and danger from poisonous organisms ends.

If you offer shamipatra to the Shivling on Mahashivaratri, then there is no harm from Saturn's Shadhesati, Markesh and inauspicious planetary transits.
The auspicious time of worship of four hours on Mahashivaratri
Kundli analyst Dr. Anish Vyas explains that, on the day of Mahashivaratri, Lord Shiva is worshiped in four phases. Every moment of this day is extremely auspicious. According to the Hindu Panchang, the worship time in the first Prahar is from 06.45 in the evening of February 18 to 09.35 in the night. On the other hand, the time of worship in the second Prahar is from 09.35 to 12.24 midnight on February 19. The time of worship in the third Prahar is from 12.24 midnight to 03.14 in the morning on 19th February. Fourth Prahar Puja time will be on February 19 itself from 03.14 am to 06.03 am. On the day of Mahashivaratri, Sarvartha Siddhi Yoga will be there from 04.12 to 06.03 in the evening.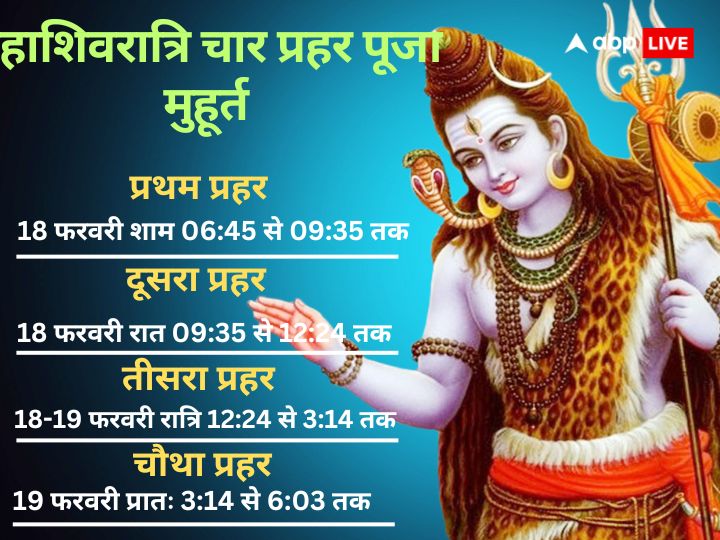 Remedies for the strength of planets
Kundli analyst Dr. Anish Vyas says that if you want to strengthen the position of the Sun in the horoscope or to achieve success in government work, then on the day of Mahashivaratri, anoint the Shivling with jaggery mixed with water in a copper pot.
To make married life sweet, husband and wife should anoint the Shivling.

If Mars is afflicted in your horoscope, then Shivling should be anointed with turmeric mixed water.

If the condition of Mercury is bad in your horoscope, then worship Shiva-Parvati on Mahashivaratri and after worshiping, feed 7 girls.

To strengthen Venus in the horoscope, anoint the Shivling with milk and curd.

If Saturn is afflicted in the horoscope, then do Abhishek with mustard oil.

To strengthen the planet Rahu, do Abhishek by mixing 7 grains of barley in water.

To strengthen Ketu, anoint Shivling by mixing honey in water.

To strengthen the moon in the horoscope, do Abhishek with raw milk.

To strengthen the planet Jupiter, apply saffron tilak on your forehead and navel.
According to zodiac sign, offer these ingredients on Shivling
Aries: Offer Belpatra.

Taurus: Offer water mixed with milk.

Gemini: Offer curd mixed water.

Cancer: Offer sandalwood perfume.

Singh: Light a lamp of ghee.

Virgo: Mix black sesame and water and do Abhishek.

Libra: Mix white sandalwood in water.

Scorpio: Offer water and belpatra.

Sagittarius: Offer Abir or Gulal.

Capricorn: Offer cannabis and datura.

Aquarius: Offer flowers.

Pisces: Abhishek with sugarcane juice and saffron.
Mythological Significance of Mahashivratri
Astrologer and horoscope analyst Dr. Anish Vyas explains that, according to mythological belief, on the auspicious night of Mahashivratri, Lord Shiva created protection and destruction. It is also believed that the auspicious marriage of Lord Shiva and Goddess Parvati took place on this auspicious day.
Do not do this work on Mahashivaratri
Turmeric vaccine- On Shivratri, devotees apply tika to Lord Shiva with turmeric in the temple. By the way, turmeric is used in almost every religious work. But turmeric is not offered to Lord Shiva. The reason for this is that, turmeric is used as a feminine cosmetic and according to the scriptures, Shivling is a symbol of masculinity.

red flowers- Astrologer and horoscope analyst Dr. Anish Vyas tells that, you must have seen that a lot of flowers are sold outside the temples on Shivratri. But did you notice that these flowers do not have red flowers. Mostly yellow colored marigold or white flowers are seen. This is because red colored flowers are not offered to Lord Shiva. It is believed that Lord Shiva is pleased quickly by offering white colored flowers.

Sindoor or Kumkum- Women apply vermilion or kumkum for the long life of their husbands. It is believed that Lord Shiva is known as the destroyer. That's why vermilion or kumkum should not be offered on Shivling. Instead you can use sandalwood.

copper pot To offer water to Shivling, use only copper or brass pot, not steel or iron pot.

Giving water from the conch shell is prohibited. Conch is considered very sacred in Hindu religion. It is considered very auspicious to play it and give water to it in every worship. But water should not be offered on Shivling with conch shell. It is considered forbidden to do so.
read this also: Mahashivratri 2023: Mahadev gets angry by offering these fruits, do not offer it on Shivling in the worship of Mahashivratri
Disclaimer: The information provided here is based on assumptions and information only. It is important to mention here that ABPLive.com does not confirm any kind of recognition, information. Before implementing any information or belief, consult the relevant expert.
Source link